The Top 7 Health Benefits of Cycling
by Derek Markham
Cyclists are a diverse group. Some of us ride fat tires down rocky trails, some of us ride road bikes up burly hills, some of us ride for sport and some of us ride just for fun. Some ride for the adrenaline rush and some ride their bikes for basic transportation. But all of us can take advantage of the healthy benefits of cycling, even if we never buy a single item made from spandex. Bicycling, along with being the most efficient mode of human locomotion, is also one of the best all-around activities for improving our health. From head to toes, cycling's health benefits are hard to beat.
1) Cycling is good for your heart: Cycling is associated with improved cardiovascular fitness, as well as a decrease in the risk of coronary heart disease.
2) Cycling is good for your muscles: Riding a bike is great for toning and building your muscles, especially in the lower half of the body – your calves, your thighs, and your rear end. It's also a great low-impact mode of exercise for those with joint conditions or injuries to the legs or hips, which might keep them from being active.
3) Cycling is good for your waistline: You can burn a lot of calories while biking, especially when you cycle faster than a leisurely pace, and cycling has been associated with helping to keep weight gain down. And cycling has the added benefit of ramping up your metabolism, even after the ride is over.
4) Cycling is good for your lifespan: Bicycling is a great way to increase your longevity, as cycling regularly has been associated with increased 'life-years', even when adjusted for risks of injury through cycling.
5) Cycling is good for your coordination: Moving both feet around in circles while steering with both your hands and your body's own weight is good practice for your coordination skills.
6) Cycling is good for your mental health: Riding a bike has been linked to improved mental health.
7) Cycling is good for your immune system: Cycling can strengthen your immune system, and could protect against certain kinds of cancers.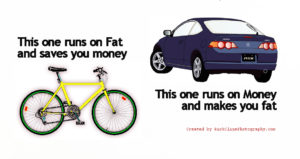 7 Reasons to Start Bike Riding
by By Christine Mattheis – WomensHealth Magazine
Everywhere you look, people are jumping on the bicycle bandwagon. It's no surprise, given the thousands of miles of new bicycle lanes in cities across the United States and the environmental benefits. But riding a bike is good for more than saving the planet and your hard- earned cash. It's also one of the most effective workouts you'll ever do. Here's how it can make you a lean, fat-burning machine
1) It Torches Calories
A 135-pound woman pedaling 12 to 14 miles an hour blasts 488 calories in 60 minutes.
2) You Can Do It on the Go
Half of American workers live within five miles of their workplace, according to the most recent National Household Transportation Survey. That's a totally doable 20-minute ride each way. If you live close to your office, you can pedal to work twice a week and burn up to 3,000 extra calories—close to one pound of fat—each month
3) It Tones You All Over
Cyclists are notorious for having killer legs. After all, the quads, glutes, and calves are propelling the bike. But working the handlebar sculpts your upper body too, giving you balanced tone, says Erik Moen, a physical therapist who treats elite athletes.
4) It Boosts Energy
Feeling sluggish? A study published in the journal Psychotherapy and Psychosomatics found that bike riding improved energy levels by 20 percent and decreased fatigue by 65 percent. Why? Cycling triggers your brain to release the neurotransmitter dopamine, which is linked to energy, says lead author Patrick O'Connor, Ph.D., a professor of kinesiology at the University of Georgia at Athens. There's no need to ride hard to harness the perk. People in the study who pedaled at a low to moderate pace three times a week fought fatigue best.
5) It Saves Your Joints
"Riding a bike puts a lot less stress on the knees, ankles, and spine than walking or running," Moen says. Get the perfect fit: Your knee should bend just slightly (about 25 degrees) on the down pedal stroke. If it's too straight or too bent, bring your ride to a bike shop and have a professional fitter adjust your saddle.
6) Every Muscle Feels It
Find a hill that takes three to 10 minutes to climb, suggests Rebecca Rusch, a world-champion mountain bike racer. Ride up two or three times, spending roughly half the time pedaling out of the saddle. Pedaling while standing engages your core and triceps as you stabilize your body over the bike.
7) It Protects Your Ticker
Heart disease is the number-one killer of women in this country, and two top risk factors are high blood pressure and high LDL cholesterol. In one study, researchers had 32 women ride at a moderate to high intensity three times a week for at least half an hour. After a year, they'd lowered their blood pressure and LDL, as well as significantly increased their aerobic fitness. "Look for a road or path where you can ride for at least 30 minutes without stopping so you can keep a consistently high pace," Rusch says.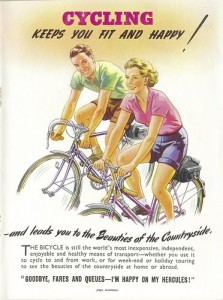 Bicycling and your Health
Bicycling makes use of the largest muscles in the body, so it is good for people who are trying to lose weight and body fat. Exercising at low intensity is better for people who want to lose weight as the body doesn't have the chance to burn fat at high work rates. Endurance cycling is an aerobic exercise, and therefore it can improve cardiovascular health. The physical exercise gained from cycling is generally linked with increased health and well-being. According to the World Health Organization, physical inactivity is second only to tobacco smoking as a health risk in developed countries, and this is associated with many tens of billions of dollars of healthcare costs. The WHO's report suggests that increasing physical activity is a public health 'best buy', and that cycling is a 'highly suitable activity' for this purpose. The charity Sustrans reports that investment in cycling provision can give a 20:1 return from health and other benefits. It has been estimated that, on average, approximately 20 life-years are gained from the health benefits of road bicycling for every life-year lost through injury.
Better physical health, including reduced risk of heart disease, the number one cause of death in the U.S., is one benefit of bicycle commuting. The National Institute for Health has increased the suggested amount of exercise from half an hour to an hour a day. Bicycle commuting can provide a practical method for meeting the recommended amount of daily exercise for people that work jobs that aren't physically demanding or labor-intensive. Studies have shown that integrating moderate cardiovascular exercise into daily routines is highly beneficial to health, protecting against coronary heart disease, some cancers and reducing incidence of obesity. At least one study has shown that transportational cycling confers additional benefit even among those who are otherwise fit. Commuting by bicycle is often a good way to improve a person's health during a period of time that is often spent sitting in traffic. In some countries health insurers actively support bicycle commuting. Measures that promote physical health, including aerobic exercise, have been shown to reduce the symptoms of depression. Bicycle commuters in general enjoy greater productivity, and (particularly for the deskbound) a nice balance for the day, particularly in combination with stopping and stretching.